8 Reasons We Love WINNER To The Moon And Back
If you haven't had the chance, check out WINNER's current comeback and promotions that are going on right now! We know you won't regret it. Palm trees, dancing, and four amazing members, what's not to love! But if you still need some convincing, here are eight reasons why we love WINNER!
1. Their love for animals
First on the list is definitely the members' affinity for animals. Remember the only two live things Mino can touch?
That's right, people and cats.
Many of the members consider themselves dads to several pets, and Seunghoon even has an Instagram account called maetamongisdad!
2. Their leader is now the maknae (youngest in the group)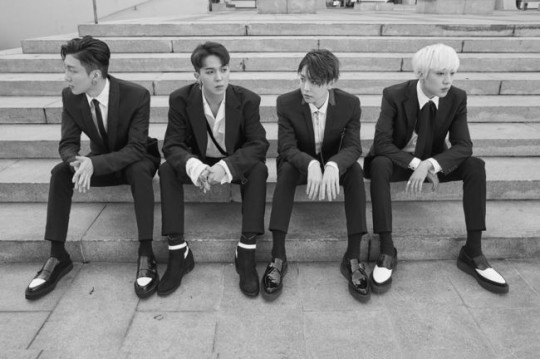 This is an amazing accomplishment and shows that age is just a number. What matters more are the relationships members have with each other, their team mentality, and their faith that they are all invested in common goals. Shout out to leader Seungyoon for holding down the fort!
3. They're good with kids
If there's a fast way to melt the hearts of fans, it's definitely to play with kids! Not only is it entertaining and hilarious to watch them attempt to handle all the responsibilities, it is sweet, genuine, and absolutely adorable to see these young men learn more from the kids.
Just look how popular Jinwoo is!
4. They're awkward
Often times, idols are painted to be perfect human beings, but in comes the WINNER members, who are definitely there to say that this is 100 percent not true. For the most part, they're just young adults trying to move their way up in this crazy thing we call life. While they have a swag image, they're sure to remind us that they aren't always so put together. Remember this innocent incident in a Japanese interview?
5. They got jokes
There is no denying that they are sure to make you laugh. Most of the time it's from their interactions with each other and their constant teasing!
6. Their relationship with other YG artists
We hear about YG family a lot, and with WINNER, it is true through and through. We got to see WINNER's relationships with artists like Tablo, Taeyang, Sandara Park, and many more begin to blossom even back when they were just trainees, and those relationship have stayed strong.
Check out this clip of Seunghoon and Park Bom making ramen for their groups!
7. They're upfront about their troubles
Idol life isn't all glam and glory, and WINNER is real and upfront about their struggles, which can be refreshing. It helps connect them with fans who also are going through troubles. Ever since they were on the survival program "WIN: Who Is Next?" they have been open and honest about the challenges they face in pursuit of their goals, and they give thanks where it is due. If you haven't had the chance, check out this article where the members open up about the departure of Nam Taehyun.
8. The power of Inner Circle
Along with being honest, they have mentioned several times that they are able to do what they do because they have the love of their fans, and they have praised their fans for staying by their side through it all. They've openly admitted that the road to each comeback has been long and hard for them, but they are motivated by their fans who are always there for them, even during the long stretches. Check out this cute message put out just for Inner Circles:
What are your favorite things about WINNER? Let us know in the comments below! 
amycwang93 loves eating, sleeping, and reading. She's keeping herself busy these days by watching "Strong Woman Do Bong Soon."