Album Review Dear Cloud Volume 2 – Grey
Dear Cloud Volume 2 – Grey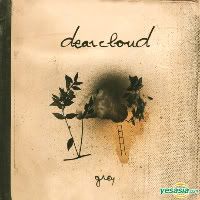 01 . Siam
02 . 부탁해
03 . Lip
04 . 늦은 혼잣말
05 . Never Ending
06 . 거짓말
07 . 나를 안아('05 home recording)
08 . 나에게만 너를 말해주기를
09 . Daydream
10 . 비밀
11 . La La La song
Finally, the long-awaited album review. Or at least my long-awaited album review. I was sitting on the couch listening to Dear Cloud's new album when it was first released. Listening to the first track, I was getting a bit bored. Why? Three minutes had already passed, weren't they going to sing something a little more upbeat? I'd skipped the first track five times or maybe more, but never noticed that at the four-minute mark, the true potential of the song came out. With an awesome clash of instruments the song opened my ears. "Siam" is a superb opening song for the album. It is magnificent.

With the title song being "Lip", it has given me high expectations for the album, and the album has matched them. "Lip" releases lead vocalist Nine's powerful yet soothing voice. The song is filled with intense emotion and some really nice guitar work. Young Rin, guitarist of Dear Cloud, wrote the lyrics to "Lip" and when a person knows the meaning of the song "Lip", it makes them want to listen to it more. The song talks about lip-synching in the music industry. Of course, Nine has shown us she definitely does not need to lip-synch. The only thing I would change about "Lip" would be to extend it. It was too good to end. However, if it went on longer, the rest of the album would be forgotten. Track 4 "Daydream" brings a softer feel to Nine's vocals along with a low, yet nice, feeling to the song. Track 5 consists of a slower tempo, but Nine's voice will always complement any song she sings.

Without the band, Dear Cloud would not be as good as they are right now. Sure, Nine has a killer voice for a female vocalist. But along with Young Rin, Elang, Jung Ah and Gwang Suk, Dear Cloud would not sound as amazing as they do in this album. With every song bringing a different taste of their kind of music, it is a must-listen and a must-buy. Debuting with "Ice Fortress", with Kim Jae Wook (Coffee Prince) featuring in the music video to help the group promote themselves, it was a clever way to attract attention. He's a good friend, out to help his fellow buddies. But it's also similar to that of Tae Goon and Jaejoong's (DBSK) friendship and the whole "I'm a friend so I'll help out". We're thankful but sooner or later we have to realize it is the singer/band who is the main focus or should be. However, for this second album, I am glad to know they have done it all on their own, their way, their style. Go Dear Cloud!
5/5

5/5 – Even if you're not a fan of this artist/group this album is a must buy.
4/5 – If you're a fan of this artist/group, you must buy this album.
3/5 – If you're a fan of this artist/group, you might want to add this one to your collection.
2/5 – Only a fan would buy this.
1/5 – Even a fan might be disappointed