Artist of the Week – H-Eugene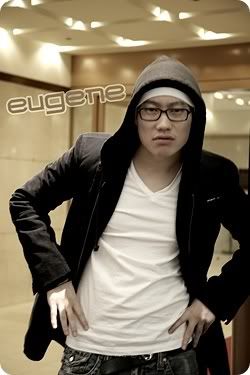 Profile.
Name: H-Eugene
Real Name: Huh Woo Jin (허우진), Eugene
Date of Birth: April, 6, 1979
Biography.
This week's featured artiste is H-Eugene. He was discovered by renowned producer Yang Hyun-suk (better known as YG), who has groomed many famous artistes such as Big Bang, Se7en, 1TYM, Lexy, Gummy, and so on and so forth. H-Eugene was discovered at the age of 17 along with his friends, Teddy Park and Danny Im, and entered the world of music. Teddy and Danny went on to form a group named 1TYM, while H-Eugene stood in as Yoo Seung Joon's rapper/dancer. Unfortunately, Yoo's exile in 2002 from the Korean pop scene because of his refusal to fulfil his military service meant that H-Eugene's budding career suffered as well.
Undeterred, H-Eugene went on to become MC Mong's main rapper two years later, and finally got his wish in 2006 – his very first album. Only One Way gained controversy for featuring Yoo as a guest rapper in track 4 독물장군 – 유승준. Two years later, H-Eugene has come back with his second official album, with Bae Seul Ki featuring in his title track. H-Eugene has named it The Family, a dedication towards the artistes that he had helped in the past. Many of his tracks feature popular artistes such as MC Mong, Shin Ji of Koyote, Brown Eyed Girls, Bae, Han Esther, and of course, Yoo Seung Joon. His title track is Track 3, Kiss Me, which showcases Bae's spunky voice and H-Eugene's powerful rap. Long-time pal Teddy composed and rearranged one of the tracks in the album: track 5, Shorty. Another highlight of the album is the rap duel between MC Mong and H-Eugene in track 9's H-Eugene vs. MC Mong.
Discography.
1st Official Album (2006) Only One Way 01About Me (ft. 오성훈) 02 친구를 잃은 우리 – 자두 03 날 사랑하지 마요 – 제이 04 독물장군 – 유승준 05 힙뿡 – MC뭉, 후니훈, 박남훈, 박장근 06 해뜰날 – 리즈
2nd Official Album (2008) H-Eugene and the Family 01 Welcome Back 02 Stranger (feat. Shin Ji) 03 Kiss Me (feat. Bae Seul Ki) 04 As Much as Number Tears (feat. Young Ji) 05 Shorty (feat. Teddy, Master Wu, Park Jang Geun) 06 I'm waiting (feat. Oh Jong Hyuk, Hoo Ni Hoon)
Credits: yesasia for album images