Artist of the Week – Monday Kiz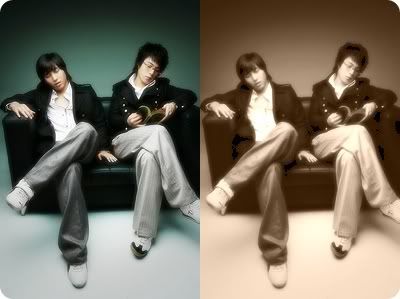 May Kim Min-soo rest in peace.
– Soompi family
Profile.
Name: Kim Min-soo (김민수)
Date of Birth: January 14, 1985
Physique: 175 cm ; 63 kg
Blood-Type: A
Hobbies/Specialties: Exercising, Games, Singing
Music He Enjoys: R&B CCM (Gospel)
Singer(s) He Likes: Luther Vandross, Boys 2 Men
Motive Behind Singing Career: "After I found out my body moved to the beat of music"
Name: Lee Jinsung (이진성)
Date of Birth: February 27, 1985
Physique: 175 cm ; 63 kg
Blood-Type: O
Hobbies/Specialties: Movies, Taking pictures, Soccer
Music He Enjoys: Light & Salt – Don't Leave My Side
Singer(s) He Likes: Stevie Wonder
Motive Behind Singing Career: "In Highschool, while I was in a rock band I decided I had to pursue a career in music"
Biography.
The singing group, Monday Kiz, is made up of two 1985ers, Kim Min-soo and Lee Jinsung. The two had met in an audition back in 2004. Their team name, Monday Kiz, was at first Monday Kids as they claimed their first recording in a studio was on a Monday. However, they didn't want to be known as another SG Wannabe, so they dropped the "s" for the "z" because they wanted their own identity.
They debuted back in November 2005 with their title song Bye Bye Bye, written by famous song-writer Kim Dohoon, who had written songs for top singers including Wheesung, SG Wannabe and Gummy. Songwriter Jun Haesung also took part in the making of the group's debut album. With help from big names in the music industry, Monday Kiz created a feel-good musical style which mixes pop, groove, and R&B rhythms. Their debut performance on Dec 18 at SBS' Inkigayo floored the audience with their flawless renditions.
The boys released their second album, El Condor Pasa, with relatively low-key promotion in 2007, but they climbed the charts via word of mouth, and most importantly, the quality of their music. Their soothing voices made hits out of mid-tempo R&B ballads such as A Man (composed by Kim Do Hoon and Min Myung Ki) and Bad Man, and the emotional Leaving Before My Eyes. They also released a Music 2.0 Special Edition later that year, and then another single, Incompletion, in October.
Monday Kiz were also active in lending their emotive vocals to various soundtracks of Korean dramas. Notable songs include The Way to Your Heart for the SBS drama "Smile Again", which starred Kim Hee Sun and Lee Dong Gun; Monologue, the ending title song for MBC drama "New Heart"; and Michin Sarang for KBS drama Single Dad in Love (starring Oh Ji Ho). The talented duo also participated in the project album Voice One Single and joint album Friendship with V.O.S and Ilac.The joint album is an outstanding effort that showcases each singer's strengths and characteristics. Lee Jinsung also showed off his creative side by penning penning and arranging the pop ballad Saranghaji Malgirl Geuletsur ("Shouldn't Have Loved").
Sadly, Kim Min-soo died in a car accident on April 28, 2008. The duo were in the midst of promoting their third album, Inside Story, when this unfortunate incident happened. Kim Min-soo was much loved for his powerful and husky voice. He and Lee Jinsung were well known to be crazy about music and sang like there was no tomorrow. This is yet another great loss to the Korean music industry, after the death of Turtles leader, Turtleman, earlier in April. Soompi sends its deepest condolences to Kim Min-soo's family and friends, and fans of Monday Kiz.
Discography.
Bye Bye Bye (1st album, 2005) 01 Intro 02 Promise 03 Both Obligations 04 Loving you 05 Bye Bye Bye 06 Love I 07 Wound Laden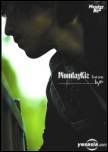 World Made By Science (Single 2006) 01 World Made By Science 02 Logo Song 1 03 Logo Song 2 04 Logo Song 3
Smile Again (OST Album 2006) 04 The Way to Your Heart
Wolf (OST Album 2006) 03 Fate 13 Fate (Acoustic Version)
Invisible Man (OST Album 2006) 02 Can't Stop Loving You 07 Love Love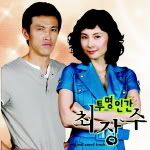 Who's Next In 2006 (Digital Single 2006) 01 Jin Ju Ri 02 The Way to Lie 03 To My Princess 04 Towards Looking for You 05 Jin Ju Ri (MV version)
El Condor Pasa (2nd album, 2007) 01 El Condor Pasa 02 하늘아 제발 03 새 살 (Title track) 04나비의 꿈 05 Lonely Soul 06 남자야
Voice One Single (with Jang Hye Jin and Voice One, 2007) 01 Sarang Yae Gi 02 Ha Nool 03 Sarang Yae Gi Instrumental 04 Ha Nool Instrumental
Friendship (with V.O.S. + Ilac, Single 2008) 01 그깟 사랑 (Keuggat sarang) – Monday Kiz (진성 Jin Seong) & V.O.S (현준 Hyeon Joon) & 일락 (Ilac) 02 사랑하지 말걸 그랬어 (Saranghaji malgeol keuraesseo) – Monday Kiz (진성) & 일락 03 그깟 사랑 (Instrumental) 04 사랑하지 말걸 그랬어 (Instrumental)
Single Dad in Love OST (2008) 02 Michin Sarang ("Crazy Love")
Inside Story (3rd album, 2008) 01 Intro 02 신기루 03 가슴으로 외쳐 (Rap Feat. Rhymer) 04 발자국 05 그렇더라 06 니가 떠난 그날
credits to xsimply juicy, KBS World, Reika no rakuen, Monday Kiz Thread @ Soompi, Aziraphale