Information about up-coming concerts
featuring artists: YB, M (Lee Min Woo), Min Kyung Hoon, Cho Yong-pil, Sung Shi-kyung, Kim Dong-ryul.
YB to hold first independent concert in Japan
Source: http://www.arirang.co.kr/
Korean rock band YB is going to have their first independent concert in Tokyo's "Nakano
Sun Plaza" April 30th. YB already toured Europe (2005), had their first concert in LA (2006) and has been attending a lot of festivals, concerts and other events. They also hold their long-run nationwide tour every time they have a new album.
===================================
Lee Min-woo (M) to Hold First Solo Concert in Shanghai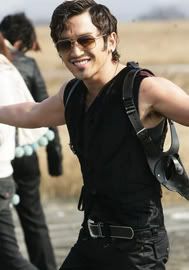 Date: April 16, 2008
Source: http://english.kbs.co.kr/
Lee Min Woo (M) will have his first solo concert in Shanghai named "M, Live in Shanghai" on May 2 and 3 at the International Gymnastics Center.
According to Open World Entertainment, 90 percent of the tickets have already been sold since April 17.
After the concert in China, M is going to have another 2-day-concert in Seoul at the end of May.
===================================
Min Kyung-hoon to hold 1st solo concert in April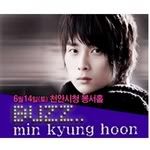 Source: http://www.arirang.co.kr/
Picture: http://shopping.naver.com/
Former
Buzz-vocalist Min Kyung Hoon held his first solo concert on April 18 and 19 at Seoul Olympic Park's Olympic Hall. Not being a regular concert, audiences who came to the concert had a chance to dine, watch a movie and sing a duet with him.
On April 26, the next concert will take place in Busan. Following are concerts in Daegu (May 10), Chon-an (June 14) and Daejon (June 21).
===================================
Cho Yong-pil marks 40th anniversary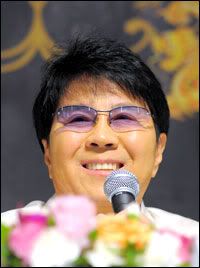 Date: April 16, 2008
Source: http://www.koreatimes.co.kr/
Cho Young-pil (58) is holding the "The History – The Leopard of Kilimanjaro" concert to celebrate his 40th anniversary as a successful singer. Cho will tour 22 cities around the nation with his band "The Great Birth" and visit New York and Los Angeles as part of his tour.
According to Lee Jong-il, the producer of the concert, the performance will be more
"concentrated". "If the previous concerts were like a buffet (with many different features), we are going for a more specialized restaurant experience. It will be all about Cho, his band and their songs," Lee said.
But still the concert will have eye-catching features with the help of technology and stage art.
At the press conference announcing the concert, Cho also said his thanks to his fans. He mentioned: "The future seems a long way off, but when I look back to my past, it seems so short. I cannot believe I have been in the music industry for so long. We all went through difficult times, and if not for my fans, I would not have made it to this day".
The first concert of the tour will start on May 24 in Seoul and then move on to other cities like Daejeon, Daegu, Incheon and Busan throughout the year and Cho will be the first Asian artist to perform at the Nokia Theatre in Los Angeles and the Radio City Music Hall in New
York in August.
For more information, visit www.choyongpil.com or call 1566-1369.
===================================
Sung Si-kyung Concert: The Story of Sung Si-kyung Told by Si-kyung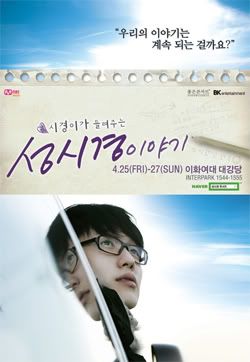 Source: http://world.kbs.co.kr/
Date : Apr. 25 – 27
Place : Grand Auditorium, Ewha Womans University, Seoul
Sung Si-kyung is back with his latest single (released on April 04) and a part of the album "Rhapsody part 1" (released on April 24) with Bobby Kim, Son Ho-young,… and his own live concerts. This spring, Sung Si-kyung will reveal and talk more about himself, from his thoughts on music, his life to the stories of his past loves and his time dealing with rumors and scandals. "The story of Sung Si-kyung" is considered the last communication he has with his
fans before he goes to fulfil his military duty.
These special concerts will continue in Suwon, Daejeon, Ulsan, Busan, Daegu in May and June.
===================================
Kim Dong-ryul 2008 Concert: Monologue – Prologue I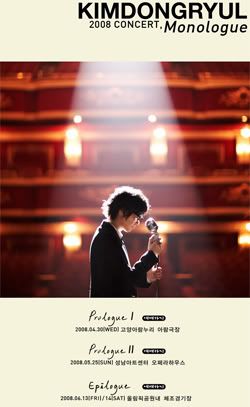 Source: http://world.kbs.co.kr/
The representative of Korean lyrical soul Kim Dong Ryul has just come back with his latest album "Monologue". This year Kim is planning to have 2-theme concert: Prologue and Epilogue.
The Monologue concert was held at Aram Theatre, Goyang Aramnuri, Goyang, Gyeonggi Province. In
Prologue I there will be some of his lesser-known acoustic songs. The repertoires at the Prologue and Epilogue concerts will be different because of the conditions of the concert venues.
Monologue – Prologue II will be held on May 25 at the Seongnam Art Center Opera House and
Epilogue I on June 13 and 14 at Olympic Park in Seoul.