Jang Suh Hee, Suh Ji Suk, and Go Joo Won lead the SBS drama "OB & GYN (산부인과)"
1/24/2010 – Jang Suh Hee, Suh Ji Suk, and Go Joo Won (장서희, 서지석, 고주원) will lead the Wednesday-Thursday drama "OB & GYN (산부인과, 産婦人科)" scheduled to be aired by SBS on 2/3/2010, following the final episode of "Will Christmas Snow?"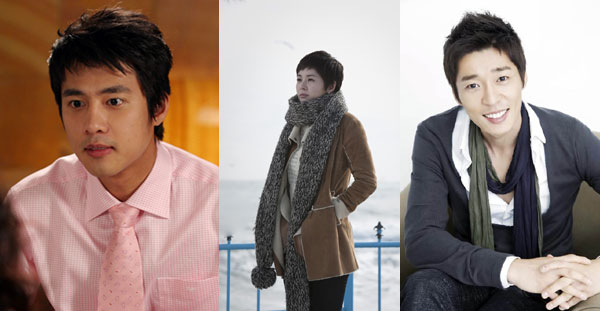 This medical drama portrays loves and choices happened in an Obstetrics & Gynecology clinic.  Mixed with interesting storylines, the drama delivers the message of respecting lives and the painful choices made by many pregnant women.  The PD is Lee Hyun Jik (이현직) whose previous drama was "Lobbyist" and the script writer is Choi Ha Ra (최희라) who wrote for the medical drama "New Heart".
Jang Suh Hee (38) plays the role Suh Hye Young (서혜영) who is a doctress working in a local OB & GYN clinic. Suh Ji Suk (29) plays the role Wang Jae Suk (왕재석) who is a humorous and charming doctor. He is trusted by his patients due to his caring and considerate attitudes. Although he acts like a playboy, he had a difficult childhood which left scars on his mind.  Hye Young and Jae Suk have been classmates from elementary school, middle school, high school, to medical school.  Hye Young and Jae Suk develop entangled romance.
Go Joo Won (29) plays a Pediatrician Lee Sang Shik working in the same clinic where Hye Young works. These 3 main characters form a triangle love relationship.
Supporting cast includes Jung Ho Bin (정호빈, 40), Song Joong Gi (송중기, 24) and actress Lee Young Eun (이영은, 27).
Jung Ho Bin plays the role Yoon Suh Jin (윤서진) who is a manager of a medical school.  Suh Jin and his wife separated after 8 years marriage.  Then he falls in love with Hye Young.  Song Joong Gi plays the 2nd year clinic resident doctor Ahn Kyung Woo (안경우).  Lee Young Eun plays the nurse Young Mi (영미) who falls in love with Kyung Woo.
Jang Suh Hee says, "The story starts from my role Hye Young learns that she is pregnant. The storylines are about patients coming to the clinic for medical treatments as well as the comical episodes across love and friendship among the characters played by Suh Ji Suk, Go Joo Won, and myself."
She adds, "I wore a nurse gown in a drama I played before. This time, I wear a doctor gown. On the first day of 2010, I filmed a scene of this drama about performing the Caesarean Section on a pregnant woman. I felt the sense of responsibility while I was filming that scene."
[Poster]
Jang Suh Hee
Suh Ji Suk
Go Joo Won
Jung Ho Bin
Song Joong Gi
Lee Young Eun
http://www.mydaily.co.kr/news/read.html?newsid=200912211807231110&ext=na
http://www.tvdaily.co.kr/read.php3?aid=126412426740503002
http://www.mydaily.co.kr/news/read.html?newsid=201001201707191113
http://joynews.inews24.com/php/news_view.php?g_menu=700800&g_serial=471389
http://www.artsnews.co.kr/news/59178
http://sports.chosun.com/news/ntype2.htm?ut=1&name=/news/entertainment/200912/20091225/9cy77131.htm
http://star.mt.co.kr/view/stview.php?no=2010011208243523566&type=1&outlink=1