Japan Fueling Korea's Hallyu?
It seems in the last few years Korean drama writers have been expanding
their ideas to go beyond the Korean peninsula.  Definitely the K-drama
cliches are known by almost everyone that watches them avidly so it's no
surprising that Korean drama writers would look abroad for more ideas.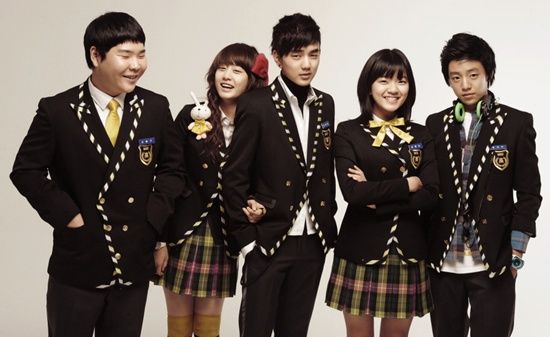 The
most obvious place to look is next door – Japan.  While Japanese dramas
are good in their own right, they are most known for their manga /
anime series, many of which are made into their own movies, spinoffs,
and dramas.  Certainly we've seen several hit Korean drama series based
off of those mangas such as Boys Over
Flowers (Hana Yori Dango),
Antique Bakery, Beethoven Virus (Nodame Cantabile), God of Study (Dragon
Zakura), and most recently My
Pet (Kimi wa Petto), He Who Can't Marry (Kekkon Dekinai Otoko) are the ones i can remember off the top of my
head.
Chosun Ilbo had an interesting article detailing this:
Among the domestic films released this
year, blockbusters
like "200 Pounds Beauty," "Highway Star", "Black House", "Kidnapping
Granny K" and "Lovers Behind" were all based on Japanese sources. Last
year and this year, as many as 21 films were produced in Korea using
Japanese source material, a significant rise compared to just five from
2001 to 2005. In other words, Korea depends on Japan for its creative
juice.

The biggest strength of the Japanese Wave, then, is creativity. In
Japan, popular comics or novels are often made into dramas and movies,
creating a kind of a synergy effect. In Korea, hit dramas like "Winter
Sonata" and "Daejanggeum" rarely venture into other media. Japan also
boasts a rich variety of material for its dramas and movies.
Stereotypical Cinderella stories dominate Korean dramas but are almost
non-existent in Japan. Instead, bizarre yet brilliantly creative stories
of ordinary individuals entertain Japanese viewers.

"Japanese dramas and movies don't just appeal to the sentimental,"
says Yun Ji-won of the LG Electronics' Life Soft Research Institute.
"People don't get easily bored with Japanese dramas because they portray
the life story of an individual in a serio-comical manner unlike Korean
dramas that are more or less the same as each other."

They go on to state some interesting facts as well:

Experts say the Korean entertainment industry's
dependence on Japanese pop culture will increase because the Japanese
novel and manga markets are popular around the world. According to the
Korean Publishing Research Institute, as of 2006 the size of the Korean
novel market was no more than W203 billion, while that of Japanese
market stood at W724.3 billion. The gap for the manga markets was even
greater, with the Japanese market (W4 trillion) some 40 times bigger
than the Korean market (W124.2 billion).

The scriptwriter Lee Ki-won, who wrote "White Tower," says in Japan,
unlike Korea, the world of highbrow literature interacts with the
popular literary world, which contributes to creating very unique
stories. Japanese novels have also started beating Korean novels here.
The Kyobo Book Center says Japanese novels occupied 31 percent of the
Korean novel market in 2006, leaving Korean novels behind with 23
percent.
I
think this is very interesting and i'm in agreement with this
statement.  The thing i will say is that more often than not, while the
initial idea comes from Japan – i find myself liking the Korean version
better than the Japanese version (with some exceptions).  Then again i
could be biased.
What Japanese manga / anime do YOU think would
be perfect to be re-made in to a Korean drama?