Music news
featuring artists: Rain, JunJin (Shinhwa), Paran, DBSK, Bigbang, Super Junior-M
Super Junior-M Debuts in China
Date: April 08, 2008
Source: http://www.koreatimes.co.kr/
By Cathy Rose A. Garcia
Staff Reporter
Super Junior-M, a sub-group of popular boy band Super Junior, is making its debut in China, Yonhap News reported.
SM Entertainment, one of Korea's largest entertainment agencies, is hoping the new group Super Junior-M will make inroads in the Chinese market.
Super Junior-M on Tuesday released the music video for "U," the first single off their Chinese-language album. The group also made its first performance at a Chinese music awards show in Beijing Tuesday evening.
Super Junior-M's first album "Me," features Chinese versions of Super Junior's hit songs such as "U," "Marry U," and "Don't Don."
Super Junior-M is composed of five members from Super Junior, namely Si-won, Dong-hae, Kyu-hyun, Ryeo-wook and Han-geng, and new Chinese members Henry and Zhou Mi. The "M" in Super Junior-M refers to Mandarin, the main Chinese language.
Han-geng, who is the only Chinese member in the original Super Junior, was recently chosen by the Olympics Organizational Committee to participate in the carrying of the Olympic torch in Beijing in August.
Henry, who plays the violin, has already appeared in Super Junior's music video for "Don't Don."
The creation of a unit group is part of SM Entertainment's "localization" strategy for the Asian market. It hopes the inclusion of the Chinese members into the Super Junior group will help make the group more popular in China.
However, Korean fans of Super Junior have vehemently protested SM Entertainment's plans to include more Chinese members. Fans have staged protest rallies in front of the company's office in Cheongdam-dong, and have even created online petitions against the plan.
Super Junior, which has 13 members, has already spawned two unit groups in the past. Super Junior- K.R.Y. and Super Junior T focused on different genres of music. K.R.Y. released ballad songs, while Super Junior T focused on making trot music more accessible to the younger generation.
=========================================
Big Bang Global Warning Tour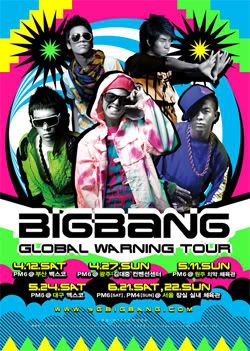 Source: http://world.kbs.co.kr/
· Date : Apr. 12
· Venue : BEXCO, Busan
· Date : Apr. 27
· Venue : Kim Dae-jung Convention Center, Gwangju
· Date : May 11
· Venue : Chiak Gymnasium, Wonju
· Date : May 24
· Venue : Daegu Expo, Daegu
· Date : Jun. 21-22
· Venue : Jamsil Gymnasium, Seoul
Big Bang wrapped up the year 2007 with their mega hits "Lies" and "Last Goodbye." Now they're back with their first national tour in 2008. In just two years since the group's debut, Big Bang has performed 10 rounds of live concerts, demonstrating that they have the talent and energy to be called today's hottest musical group. This is Big Bang's second nationwide tour, following the one in 2007, but they plan to put on unforgettable performances to show how much they have matured musically since last year. The concert tour will begin in Busan and stop by Gwangju, Wonju, and Daegu before wrapping up in Seoul in June.
=========================================
 TVXQ to Hold First Concert in China on May 31

Date: April 08, 2008
Source: http://english.kbs.co.kr/
Popular idol group TVXQ will hold the "2nd Asia Tour Concert 'O' in Shanghai" on May 31.
TVXQ's management agency SM Entertainment said Monday that the upcoming Shanghai concert will be the grand finale of its seven-nation tour around Asia. It said the members are very excited as it will be their first concert in China.
TVXQ held a press conference in Shanghai on April 4 and left for Hiroshima to prepare for their tour concert in Japan. The group will hold a total of 17 concerts in eight cities in Japan.
=========================================
Paran First Foreign Male Pop Group to Perform in Laos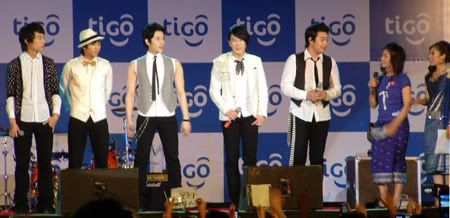 Date: April 07, 2008
Source: http://english.kbs.co.kr/
Paran, a five-member male vocal group which debuted in 2005, has made inroads all across Asia, including China, Indonesia, Laos, Taiwan, Thailand, Vietnam and Japan.
Members of Paran held a showcase concert at the amphitheater of Rao Itecc, an exhibition center in Vientiane, the capital of Laos, on April 5. It was the first concert by a male foreign group to attract 10,000 audience members. The event will be televised on Lao Star TV, the public broadcaster of Laos.
Laotian fans, who frequently enjoy Thai TV shows, raved over Paran's performance, although they did not understand the Korean lyrics.
Fans frantically took photos of the group, waved photographs of the members in the air, screamed and blew kisses to the stage.
Paran returned to Korea and April 7. Soon after their arrival, members of the group wrapped up recording their third studio album, which is slated for release on April 11. The album will be released simultaneously in six Asian countries.
The members recently said they plan to sweep their Korean fans off their feet with their new album.
=========================================
Jun Jin Prepares to Take Japan by Storm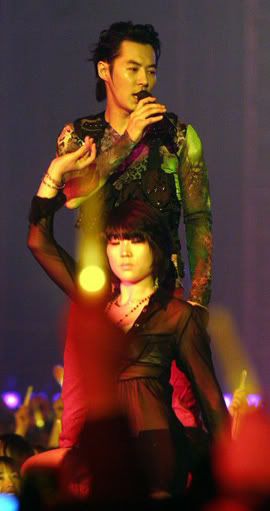 Date: April 04, 2008
Source: http://english.kbs.co.kr/
Shinhwa member Jun Jin will hold his first solo concert in Japan, the same year Shinhwa reaches the 10-year anniversary of their debut.
Jun Jin has planned two performances on the 26th (2pm, 7pm) at the C.C. Lemon Hall in Tokyo for 5000 fans. There was only one show originally scheduled but when the 2500 tickets sold out in five minutes, they decided to add another performance.
Since this is Jun Jin's first solo concert in Japan, he sought out director Kim Seo-ryong, one of the best in the field at stage productions for concerts. They are also planning a pan-Asian tour during which the singer's first solo album will be released to coincide with his concert in Korea.
Prior to his Tokyo concert, Jun Jin is scheduled to meet fans for a two-day trip through Fukushima, Japan. They will dine together, play group games, take commemorative photos, and the singer will sign personal autographs.
And on May 7th, the cable TV network So-net–which is currently introducing Hallyu dramas to its audiences–will begin broadcasting the SBS TV drama "Let's Go to the Beach" starring Jun Jin, Lee Wan, Lee Chung-ah and Kang Jung-hwa.
 =========================================
Rain to Begin International PR Tour for 'Speed Racer'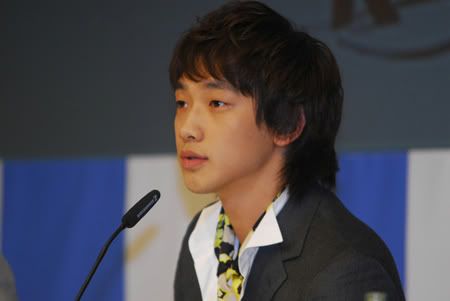 Date: April 04, 2008
Source: http://english.kbs.co.kr/
Actor and singer Rain will begin a world tour for the promotion of the simultaneous international release of Hollywood's "Speed Racer" on May 8th.
According to Warner Brothers Korea, Rain starts his promotional tour in Korea on the 20th, then Hong Kong on the 23rd and onto Los Angeles, California, where he will join producer Joel Silver, actors Emile Hirsch and Matthew Fox for the premiere. Rain is also scheduled for a Japan appearance in June.
"Hollywood actors are promoting the movie on various talk shows [in the United States] but in Asia, no one is as popular as Rain so we are expecting a great response from his promotions of the film here," announced a representative of Warner Brothers.
At 300 million dollars (USD) for its production and 80 million in marketing costs, "Speed Racer" is a hefty blockbuster about the best racers around the world battling in cars equipped with cutting-edge technology.
Last Tuesday, Variety Magazine printed that "Speed Racer" was chosen as the closing film for the 7th Tribeca Film Festival in New York City (4/23-5/4).