Music news
featuring artists & events: Big Bang (1st concert in Tokyo), JooSuc, Lee Hyun-do, Jun Jin (Shinhwa), DBSK, BoA.
BoA and TVXQ, Natural-Born Singers
Date: March, 13 2008
Source: http://english.kbs.co.kr/
Yoo Young-jin, singer-turned-songwriter for SM Entertainment's singers, was full of praise for BoA and TVXQ.
In a recent interview with Yonhap News Agency, Yoo was asked which pop artist had displayed remarkable growth and potential. He answered, "I believed BoA to be unique even as I gave her "ID: Peace B," her debut song…When I brought her the demo tape, the song was still rough and a bit unclear but at the recording three days later, she sang it with such clarity. It turned out better than I had originally imagined."
He went on to explain that BoA had a "keen sense" when interpreting a musical piece. "She knows when to add rhythm and where the song needs to be sped up in tempo. Even now, BoA continues to grow," he added.
During recording sessions with TVXQ, Yoo Young-jin said that he could "sense how much contemplation the boys put into their music."
He commented, "[They] only have a week-long break during the year as they work in Korea and Japan. It's exhausting but their vocal skills have grown exponentially in relation to their age."
==================================
TVXQ Named Asian Envoys for Universal Studios Japan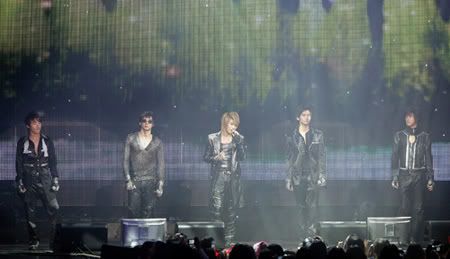 Date: March, 13 2008
Source: http://english.kbs.co.kr/
Popular boy band TVXQ has been named Asian envoys for Universal Studios Japan (USJ).
According to USJ, it has decided to designate TVXQ, which debuted in Korea in 2004, in Japan in 2005 and went on to debut in Taiwan, Hong Kong and Thailand, as its Asian envoys.
The appointment ceremony will take place on March 28 at the Universal Studios Japan located near Osaka. Once appointed, TVXQ will travel around Asia for a year to promote the attractions of USJ.
A USJ publicist said TVXQ was chosen for their international appeal, as they can speak both English and Japanese. The publicist also said that considering 70% of USJ visitors are female, it has high expectations that the popular boy band will lure many tourists from all over Asia.
==================================
Jun Jin to work as solo artist and Shinhwa member starting in March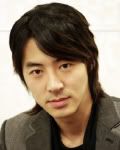 Source: http://www.arirang.co.kr/
Picture: http://www.naver.com
Shinhwa-member Jun Jin, after releasing his second solo album at the end of this month, will proceed to kill two birds with one stone. According to reps, he's wrapping up his 2nd album now and it features mostly dance songs instead of ballads, which is part of Jun Jin's effort to show fans a different side of him compared to his 1st album. With Shinhwa's 9th full-length album slated for release in March, Jun Jin will be active in both capacities. Shinhwa, which celebrates 10 years since its debut this year, will hold its 10th anniversary concert March 28th and 29th.
==================================
Lee Hyun-do to Produce Main Theme Song of 'KungFu Panda'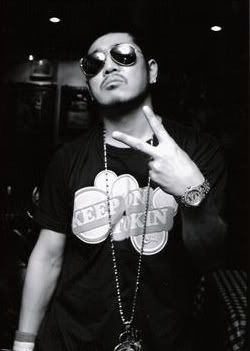 Date: March, 12 2008
Source: http://english.kbs.co.kr/
Singer and album producer Lee Hyun-do (36) will take part in producing the original soundtrack of 'KungFu Panda,' an animated Hollywood film.
'KungFu Panda' is being produced by Dreamworks and features the voices of top Hollywood actors such as Dustin Hoffman and Angelina Jolie. Word is out that Rain will sing the main theme song 'KungFu Fighting' and Lee will produce the song. The original version of 'KungFu Fighting' was sung by Carl Douglas in the 1970s and became a huge hit. Lee will add his own style to the remake version of the song.
Lee recently produced 'I Love You,' a digital single by the new singing duo Mighty Mouse.
==================================
Joosuc and Lee Hyun-do collaborate to show what they've got!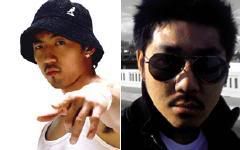 Source: http://www.arirang.co.kr/
Picture: http://www.naver.com
Hip-hop artist Joosuc has taken on the title of producer with Deux's Lee Hyun-do. They've produced new duo Mighty Mouth's album and this is Joosuc's first project since completing his military service. Joosuc's modern and sophisticated hip-hop sound and Lee Hyun-do's natural ability to appeal to the mainstream have combined to create top-quality hip-hop. Joosuc released his 4th album in 2004 and has been making his 5th album at a new agency. Expectations are high for the Lee Hyun-do/Joosuc duo!
==================================
X Japan, Big Bang to Simultaneously Hold Concerts in Tokyo
Date: March, 10 2008
Source: http://english.kbs.co.kr/
X Japan, a disbanded but once phenomenally popular Japanese idol band will perform together for the first time in ten years in front of 100,000 fans at the Tokyo Dome, the venue of their farewell concert on December 31, 1997. The band will perform on March 28 and March 30.
Not so far away from the Tokyo Dome, the Korean idol group Big Bang, which released its debut single 'How Gee' in Japan in January, will hold its first solo concert in Tokyo at Tokyo Dome City's JCB Hall for two days from March 28.
Yang Hyun-suk, the executive of Big Bang's management agency YG Entertainment who has indirect ties with X Japan, set the date of the concert in tandem with the much anticipated concert of the legendary Japanese group.
Seven, who has a contract with YG Entertainment, launched his music career in Japan through Japanese entertainment agency Unlimited Group, which helped X Japan and Glay rise to stardom.
Yang was a member of the disbanded Taeji Boys. Seo Tae-ji currently owns a guitar once used by the late Hide, one of the members of X-Japan.