Music news focus – Ahn Jae-Wook's Exclusive Album Radio Showcase
Ahn Jae-Wook's Exclusive Album Radio Showcase
Date: March 25, 2008
The month of April has been rather extraordinary for Ahn Jae-Wook. While working as a radio DJ, many wondered if he would ever return to what many recognized him for – both an actor and singer. He finally makes a triumphant comeback and plans to promote himself in all three areas of entertainment: DJ, singer and actor.
On Tuesday, March 18, it was revealed Ahn Jae-Wook's new mini-album, 'For Her', on the KBS Cool FM radio program, Mr. Radio. The idea of the 'Radio Showcase' was not solely the idea of Ahn Jae-Wook, but the innovative planning of the KBS Cool FM's Mr. Radio production team. The production team surprised Jae-Wook with news of the showcase who was currently preparing his return to the spotlight at the time. Ahn Jae-Wook was in the middle of greeting a guest on the show as usual as the topic slowly moved to the subject of his new album, where then his title song ended up being played on air. As his title song was played live on air, Cha Tae-Hyeon read the reactions of the listeners and also told the story behind his new album.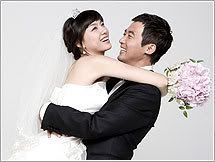 Jae-Wook's album will be released in Korea and Japan simultaneously on April 1 along with a selected number of scheduled concert dates. However, fans were treated with his title song from his eagerly anticipated album two weeks ahead of time on his show. Ahn Jae-Wook is currently practicing for his March 29 Saitama Arena 2008 Japan Live "To you" Concert, as he plans to present his new album on the live stage at the same time his album is to be released. Ahn Jae-Wook is expected to put on an intense show, slated for a 12,000-seat arena with a huge stage and state-of-the-art equipment.
After his concert, the SBS mini-series 'I Love You', starring Ahn Jae-Wook will begin airing on April 7. The success of the mini-series is said to be guaranteed as "I Love You" will also be aired in Japan as well due to Ahn Jae-Wook's strong Japanese fan-base.
His voice calls for his past love as a singer, he shows the ups and downs of a newlywed on the TV screen, and entertains with great wit as a radio DJ. Ahn Jae-Wook will begin his "multi-player" career as we await his return in April.