Music news focus – Lena Park to hold "Evergreen" concert
Lena Park will hold her concert "Evergreen" at LG Arts Center March 26-30.
By Han Sang-hee
Staff Reporter
Singer Lena Park, or Park Jung-hyun, marks her 10th anniversary this year as a singer of great ballads. With her sweet, delicate melodies, the petite 31-year-old is holding her concert late this month, and will prove once again that she not only has a big voice, but a big heart toward her fans as well.
At an open studio event for the press last Friday, Park showcased two songs from her latest album "Come to Where I Am," and explained that her upcoming concert "Evergreen" was going to be special.
"I wanted to show my fans the bright side of my music, and myself. Evergreen is a tree that stays green throughout the year and I wanted to express my thanks and happiness for being able to sing all this time," Park said.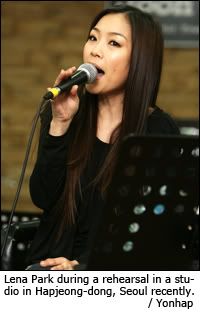 Coincidently, the second day of the concert falls on the date she released her first album "Piece," back in 1998.
"To be frank, I didn't know until a fan told me. Ten years seems like a long time at first, but I feel fortunate because it makes me think that I had a busy and great ten years. Now I am starting to feel comfortable, and this moment has given me the chance to look back," she told The Korea Times.
Park has been one of the favorites among concert lovers, with her powerful performances, her energy that enables her to stay on stage until the very end, and passion toward experimenting with new styles.
The LG Arts Center tends to be reluctant to stage Korean singers' performances, but this is Park's second time to be up on stage at the prominent venue.
"It is indeed a great honor to hold my concert at the LG Arts Center again, and I will make sure that the performance will be energetic and entertaining. There's nothing like preparing for a concert. I'm also thinking of trying something new this time," she said.
She will not only offer her songs from her latest album, but also some favorites from her five previous albums.
Having a 10-year singing career must have been a long journey with ups and downs, but Park was just happy to cherish every moment.
"I can't pinpoint just one. There were so many memorable moments in my career. There was one time when I was on stage and fans in the front row started pointing at the floor. Knowing that I adore puppies, my fans brought a puppy along as a present," Park said.
But even for the singer with a big, strong voice, living far away from her family in the United States, must have been difficult.
"Of course there were times when I wondered why I started this away from my loved ones, but then I think about my fans who send me their stories about my songs being a part of their own memories, and I think again. I was supposed to be singing here, this was my destiny. Stories from my fans help me pick myself up."
Not being a person who plans her future, Park admitted that all she wanted was a life full of songs and of course, her fans.
"I just hope I will have some kind of space that will enable me to sing. My biggest desire would be nothing else but being able to sing at the top condition, with the most beautiful voice at the best performances," she said with a smile.
Lena Park will hold her concert "Evergreen" at LG Arts Center on March 26-30. Tickets cost from 66,000 won to 88,000 won. For more information, visit www.interpark.com or call (02) 3485-8700