TaeTiSeo's First Video Teaser for "Twinkle" Features Taeyeon
Girls' Generation's sub group TaeTiSeo has just released their first video teaser for "Twinkle" today and features Taeyeon.
While the teaser focuses on various shots of Taeyeon, Tiffany and Seohyun are also seen in group shots in this 17 second teaser.
"TaeTiSeo" (Which is just a combination of Taeyeon, Tiffany, and Seohyun's names) will release their mini album "Twinkle" on April 29. The release will be through online music websites such as Melon, Genie, Naver Music, and iTunes. As we reported before, the offline version of the album will be released on May 2.
The title song of the album "Twinkle" was written by the produces, Brandon Fraley, Jamelle Fraley, and Javier Solis. The song is a mix of funky soul and medium tempo dance. The song is supposed to be reminiscent of Stevie Wonder hits from the 70s and 80s.
Since late February Taeyeon, Tiffany, and Seohyun have been the hosts of MBC's Music Core. For the past few weeks, it seems they have been teasing the dance during their introductions on the show. You can see the similar finger movements in the teaser at about 8 seconds into it.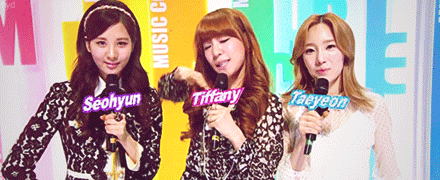 (.gif cr: Tumblr)